After I attended to Shoptalk Europe at the end of 2017 in Copenhagen, Denmark, I decided to attend Shoptalk in Las Vegas, United States, as well. Shoptalk takes place in Vegas since 2015 and claims to be the world's largest conference for retail and ecommerce.
In this article I'd like to point out five remarkable things about Shoptalk's organisation. Some of them simply make an aweseome conference experience for attendees, others may offer great opportunities to generate some phantastic data how attendees move through the halls or interact with exhibitors – perhaps other conferences may want to adapt. So let's start:
1. A great mobile app
Pretty obvious to mention is the Shoptalk mobile app. What's so special about it?
First, it offers simply the right information for every attendee: You can check the agenda, build your own schedule, receive detailed information on every session and view the location map. Also you can give feedback via surveys on every single session you attend.
The second thing is about socializing and networking: Shoptalk app really helps you to get the most out of your attendance. It's not only that you can post directly from the app to Facebook, Twitter and LinkedIn and check the relevant tweets in a curated feed – no, it even comes with an in-app messenger and a full list of all attendees including their profiles. That way you can connect with every other attendee you want to.
2. Scan & Score – making people walking around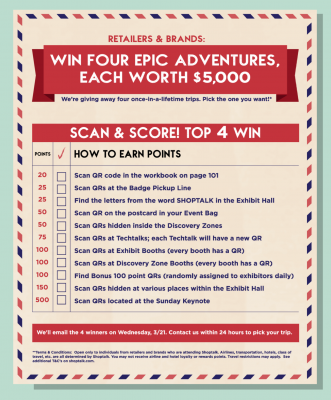 Do you want to win an epic adventure, like a cruise trip to the Bahamas?
Well, what sounds just like a stupid prize game is maybe the best gamification strategy I've ever experienced: Shoptalk spreaded tons (seriously!) of QR codes in the exhibition and conference halls to scan (of course with the app!). Every QR code scanned will give you points – the four attendees with the most points at the end will each win an epic adventure trip, an experience for lifetime. Of course, the current points scored where always displayed in the app on the leaderboard so to encourage people to participate.
From an attendee perspective, this is just fun – from the organizer's perspective, this means a lot more: It means that your attendees are moving around, they visit the booths, they visit also the very early or the very late sessions every day.
What could you do with that data as someone organizing conferences & exhibitions? Well, next year e. g. I'd offer exhibitors "premium QR codes" that will give attendees more points – so to get the chance to get more people to your booth.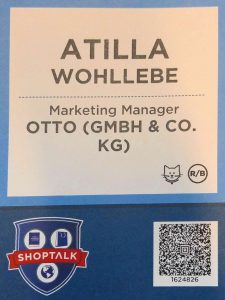 3. Badge scanning at the booths – exhibitors saving a lot of time
Speaking of booths: Exhibitors were provided with gadgets to scan the badges of their booth visitors in order to register every visitor. Why is that cool? One of the most annoying things for exhibitors is to fill out form to register new leads. Simply scanning the badges saves a lot of time – so that exhibitors can focus on the business!
Another thing: As an organizer you get a pretty nice overview of what people were interested in. Maybe this will offer some nice data to reorganize the location of the booths in the next year to encourage people even more to hang around?
4. RFID Tracking everywhere – just know everything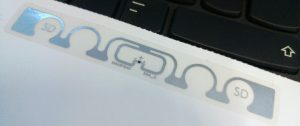 Another thing to generate a lot of helpful data is the RFID tracking: Every single visitor was tracked via RFID – at each step! Doesn't matter if it's about the hosted meetings, the discovery zones, theme-specific track rooms or the lunch area.
This offers interesting opportunities again: E. g. deploying your staff based on the most frequently visited areas or to control visitor flows.
5. Organization, catering, staff – compelling!
The last one is more or less about saying Thank You to the organizer and the staff: Everywhere was someone placed to help you, guiding you way to the sessions etc. The staff was really friendly and well informed – and the (full board of course) catering was just marvelous!
I've visited a bunch of conferences and conventions in the last few years in Europe and specially in Germany. Shoptalk in Vegas was my first in the US – and it has been a great experience. Thanks to Anil & Simran Rekhi Aggarwal and their team!